"Thanks for an awesome product, light weight, robust, site specific, even changing dimensions of a tank at the last minute due to an error on my part, sorry guys. Also great to be able to alter the internal structure of the tanks to suit pumpout and clarification sizing. Clients are very happy and I look forward to the easy installation the next tank, cheers"… Todd Wai Water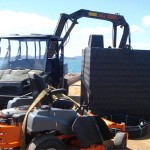 ---
" PFP09 constructed and installed a waste water system for us on Kawau Island. Access was extremely difficult and required a specific solution which other companies couldn't provide due to their pre determined designs… PFP09 designed a system to suit the location, constructed, delivered and installed the entire unit saving us time and money. It was not a minor task… Their service is excellent; they are extremely helpful, nothing is too much trouble and they backup their product… We are very pleased with the system and I can't recommend them highly enough… Michael Kawau Island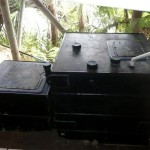 ---
PFP09 and Gerard Richardson came highly recommended to me by a friend who had recently used them to install a septic tank system on Kawau Island. Given my property was on Gt Barrier Island I was faced to work with a trustworthy and reliable company, to install an environmenttally sensitive waste system, with the least amount of impact on my already established property. Gerard visited the site with me and very quickly understood exactly what was required to install. Their unique ability to weld the plastic tank into a square box enabled it to be inserted under the house in the most efficient way possible, and the system they untimately designed was fantastic…. Throughout the design and installation process I cannot praise the team highly enough for their attention to detail, their communication, their passion for their crafting, and their total commitment to have a job well done, and a happy client. I would have to say that they have been incredible in their work ethic, their ongoing communication to check that I am completely happy with the job, and their desire to see that it operates on an ongoing basis without a hitch…. If you really want to work with great people and enjoy every part of the process, Gerard and the team at PFP09 will undoubtedly deliver well above expectations. Use them!!!…. Simon Great Barrier Island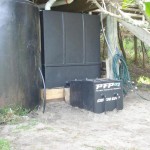 ---
" Another awesome tank, and thanks for taking my advice and fabricating steps for me to climb in and out of the tanks easily, cheers"….. Todd Wai Water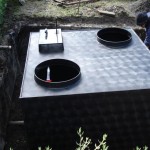 ---
5850ltr septic tank with pumpout chamber….. " I just wanted to say thank you for your outstanding service. You sorted out all our issues and gave a great product. Keep up the great work."…. Mike HCC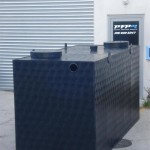 ---
"It's great, we conserve water use & have available in the event of a crisis, plus tank shape is efficient use of space (v's those round ones). Regards and thanks for a great product.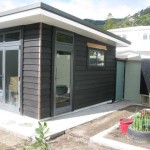 ---
"Needing a reliable, reputable company to supply storage tanks in a short time frame, I searched around online for a company to meet our requirements, PFP09 were exactly what I was looking for. Gerard is excellent to deal with, and the tanks look great, thanks"… Chris PBC
---
We recently ordered 3 wheeled crop waste bins from Gerard to replace our old steel crop waste bins. The old steel ones lasted for many years, but were heavy, hard and noisy to move around, hard to empty at times and in the end rusted out so had to be retired. By comparison the new bins we ordered ticked all the boxes – much lighter, wheel around very easily and much quieter, about 1/3 greater capacity and will never rust. The staff love working with them and I would not hesitate to recommend them to others. Kind regards, Frank van Rijen, REMBRABDT VAN RIJEN LTD / RIANTO LTD.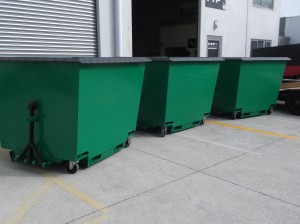 PFP09 supplied and installed our High Modulus Polyethylene pool liner to our renovated property in Remuera, Auckland. Colour looks great with the metal flake blue and the kids love it. Low maintenance and cost effective. Thanks for the great work. Darryl.